Things To Do
With its abundance of nature, magnificent views and popular tourist attractions, Beaver Valley, Ontario offers plenty to do for the young and old, for the active and those looking to relax and recharge. Here are some of our favourite things that we recommend to our guests if they're looking to explore the local area.
The Niagara Escarpment & Old Baldy
Nestled among the stunning scenery of the Niagara Escarpment, minutes from a 113km stretch of the Bruce Trail, and overlooked by the 152 meter tall Old Baldy rock face, the Jasper Stuart House is a nature lovers paradise! And that doesn't even include the serenity of the Beaver River or the many waterfalls within walking distance.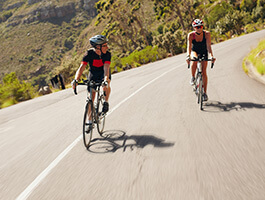 Hike, Bike, Golf
Surrounded by countless breathtaking scenes of nature and the serenity of rural Ontario, the Beaver Valley is a great place to gather with friends for some outdoor fitness adventures! Explore the winding countryside roads on a bike, play a round or two of golf, or explore the rustic natural wonders of the Niagara Escarpment.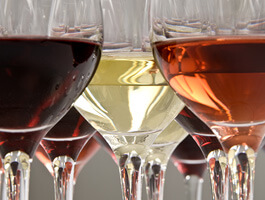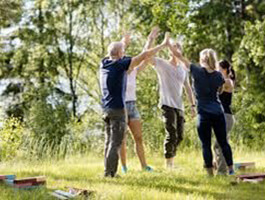 Executive Retreat Activities
Fitting fun team activities into your corporate retreat? Beaver Valley offers golfing, yoga, spas and cultural stops like art galleries and antique stores. If you just want to kick back and relax, arrange a local executive chef to satisfy your inner critic!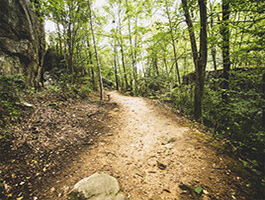 Guided Tours
Check out one of the many guided tour operators in the Beaver Valley, Ontario region. Hike one of the many beautiful trails, try your hand at kayaking or canoeing, explore the many interesting caves, or embark on a treetop trekking adventure, Beaver Valley offers it all!
Cycling & Motorbiking
Cyclists and motorcyclists alike flock to Beaver Valley, Ontario during the summer months. With it's gorgeous landscapes, hills and valleys, Beaver Valley is the perfect place to ride alone or with a group of biking enthusiasts.  Visit www.ontariobybike.ca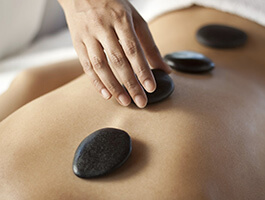 Spas & Massages
Do you like being pampered and massaged? Want a great way to relieve the tension that builds up from day-to-day life? Enjoy one of several spas and massage therapists in the local area, including Blue Mountain's Scandinave Spa and Kimberley, Ontario's own Nicole Carter Services.
Boutique Gift Shopping
There are many boutique stores in and around Beaver Valley, Ontario where you'll find all sorts of one-of-a-kind arts and crafts that you won't find anywhere else. Spend a day exploring the shops in the area and treat yourself or someone you love to a unique gift.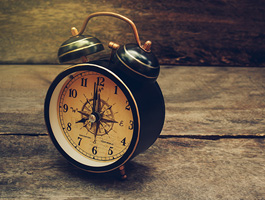 Antique Stores & Art Galleries
Enjoy antique shopping and finding something that's only gotten better with age? How about exploring art galleries and admiring the work of local artists? There are many antique stores and art galleries in Clarksburg, Thornbury and elsewhere in Beaver Valley that you'll love!
Our Neighbours
If you've decided to book a stay at the Jasper Stuart House, you might be interested in what else there is to do in beautiful Kimberley, Ontario. Well, even though the town of Kimberley is only a couple of hundred meters long, don't think that means there isn't plenty to do.
Here are some of our neighbours that make Kimberley, Ontario a wonderful place to visit!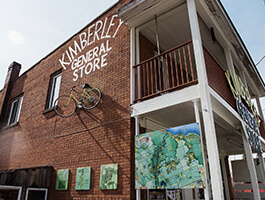 Kimberley General Store
Check out Kimberley General Store for local, in-season homegrown produce, fresh baked treats, homemade soups, and hearty sandwiches to satisfy the hungry.  The original century-old store also offers curiosities, groceries, coffee, drinks, ice cream, locally-made frozen entrées, cheeses, hats and more.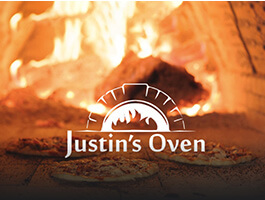 Justin's Oven Restaurant & Catering
Baking in a clay oven and using only the finest seasonal ingredients, it's no wonder Justin's Oven built a dedicated following for their Friday night pizza! Justin's Oven features a full kitchen, casual fine-dining, hearty breakfasts, Sunday brunches and take-out dinners. Check out their website for more.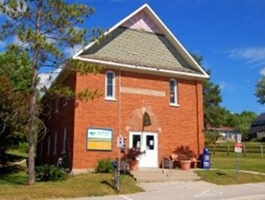 Kimberley Hall
Just a few steps from the Jasper Stuart House is recently renovated Kimberley Hall, featuring a new kitchen on the lower level and a hall upstairs. A beautiful deck overlooking scenic Old Baldy with barbeques off the second level. Tables & chairs can hold 90 people and is fully accessible (elevator).
Email:  facilities@greyhighlands.ca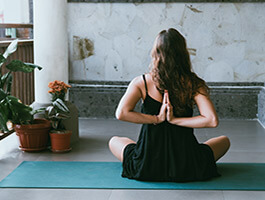 Massage & Yoga Services
Want to relax, reflect and rejuvenate before or after working on next year's budget or hiking the Bruce Trail? Nicole Carter is a registered massage therapist and  is also a certified Hatha yoga teacher and provides yoga classes for beginners to experts. Check out Nicole Carter Services at www.nicolecarterservices.com.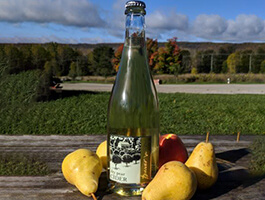 Beaver Valley Orchard & Cidery
Beaver Valley Orchard & Cidery creates their cider in small batches from select varieties of heritage apples grown in their own orchard or supplied by neighbouring Georgian Bay apple growers. Every step from pressing to bottling is performed with care at this historic family farm. Check out their website to learn more, or drop in for a delicious taste test!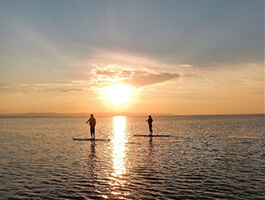 Free Spirit Tours
Looking for some outdoor adventure? Let the team over at Free Spirit Tours take you on an outdoor adventure you'll never forget!
From caving to paddling to rock climbing to sea kayaking, they've been serving unforgettable adventures to South Georgian Bay for over 17 years!  Check out their website to learn more.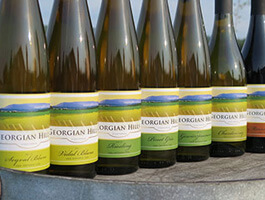 Georgian Hills Vineyards
"Tasting Is Believing" is their motto, and they live up to it with every bottle of wine they produce! Whether you're looking for a tour of the vineyards, an individual or group tasting experience, or you simply want to buy one of their delicious wines, Georgian Hills Vineyards has something for everyone! Check out their website for more.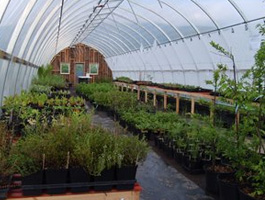 Fiddlehead Nursery
Fiddlehead Nursery is a permaculture plant nursery, specializing in growing edible, perennial plants, and designing low-maintenance, productive gardens. Stop by for a tasting tour, or take some of their delicious vegetables, salad greens, berries and fruits home. Check out their website for more.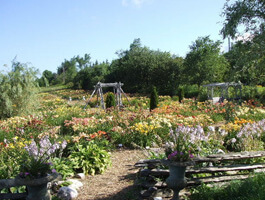 Artemesia Daylilies
If you love flowers – and especially lilies – you have to check out the amazing flower beds of Artemesia Daylilies. They feature around 675 exciting cultivars, the bulk of them being recent introductions of some of their own hybrids.
Check out their website to learn more.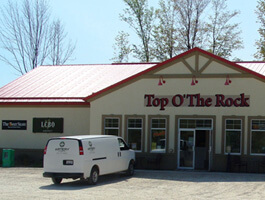 Top O' The Rock
Looking for somewhere to pick up dinner on the go, some groceries or some fresh baked goodies? Check out Top O' The Rock in nearby Eugenia, ON. They offer a one-stop-shopping experience, and they've partnered with both LCBO and The Beer Store to cover all your needs! Check out their website for more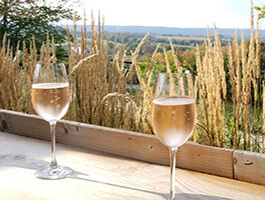 The Roost Winery & Vineyard
Located on a picturesque hilltop close to Kimberley Ontario with stunning views of Georgian Bay and only 15 minutes from the Jasper Stuart House. Experience cold-climate wines in a spectacular setting. The Roost offers private & group wine tastings and packages, bringing people together in a beautiful and relaxing setting. Check out their website for more.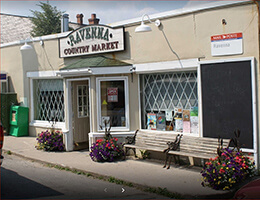 Ravenna Country Market
The Ravenna Country Market has always been famous for butter tarts and pies. Chef Paul Baran now prepares gourmet homemade Entrees, Soups and Sandwiches as well. They are also committed to finding unique locally made and grown products.  Check out their website for more.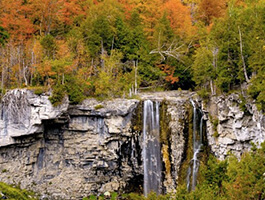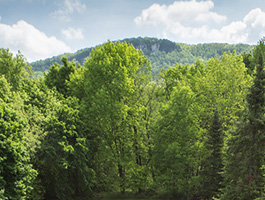 Bruce Trail
In 1960 the idea of a public 900km footpath spanning the entire Niagara Escarpment was born, preserving a ribbon of wilderness, for everyone, forever. The Bruce Trail runs through the Beaver Valley and surrounds the village of Kimberley. Canada's oldest and longest marked trail is secured within a permanently protected natural corridor.   https://brucetrail.org/